Creative CPD training for early years educators
My name is Johanna Scott and I deliver Creative CPD training (Continuous Professional Development) based on the Reggio Emilia approach.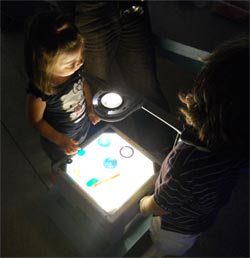 The Reggio Emilia Approach is an educational philosophy focused on pre-school education.
Central to the Reggio philosophy is the image of the child as being 'rich in potential, strong, powerful and competent'.
The child is recognized as having his or her own values. Someone who wants to be respected and valued while holding respect for others. Children are encouraged to have a curiosity and open-mindedness to all that is possible.

The Reggio Emilia philosophy is based upon the following set of principles:
Children must have some control over the direction of their learning;
Children must be able to learn through experiences of touching, moving, listening, seeing, and hearing;
Children have a relationship with other children and with material items in the world that they must be allowed to explore
Children must have endless ways and opportunities to express themselves.
The CPD training I provide focuses on promoting the importance of children's creativity in early year's education.
Children are encouraged through the development of all their 'languages'.
These are expressive, communicative, symbolic, cognitive, ethical, metaphorical, logical, imaginative, and relational.
If you would like to know more about Creative CPD training and the Reggio Emilia approach or are interested in my lectures and workshops then contact me.